Today, I thought of talking about memory food from my Bengali childhood. I am sure that you too have some typical memory food that makes you nostalgic as you age and drift light-years away from your childhood. Let me know if we have anything in common from the list of memory food I discuss below.
Ghugni, Dim Shidyo, & Bapuji Cake
My Baba pampered me a lot. Although his feminist values are below any appreciation level, he did indulge his daughter in tremendous love and care. I remember the early morning cold-air rides on my Baba's second-hand bicycle to a tea-stall by Belanagar level crossing. If you are entering from Saheb Bagan side, the tea-stall is on the right to the matt yellow level crossing control room.
At the tea-stall, labourers from Dankuni line would gather before boarding the shared labour truck. Some were masons, some fishermen. Some among them were school teachers at village pathshala. We would sit on a polished wooden bench and smack on that Ghugni, Dim Shidyo, and Bapuji Cake. Size of a six-year-old's fist, Bapuji cake is the earliest memory of fruity baking available only in Bengal for just a cent.
A day without this set of breakfast would imply Baba had no earning the previous day or ma had special plans to boil (shidyo) egg (dim) at home. No matter how much she would try to make things healthy for me, I enjoyed the dust and dirt of early morning gossips by the unknown men who huddled at the tea-stall at the start their day.
Roti Roll with Ghee/Butter/Mustard Oil Sprinkled with Sugar/Chillies/Onion
You know that there is a special way of eating roti. It is quite similar to the English having toast with butter or marmalade. As a child, my mother was quite inventive to ensure I didn't get bored with my everyday food. So, she would smear mostly ghee (because that was inexpensive and sourced directly from the neighbours who processed ghee of cow milk) or butter on rare occasions. Both the times, she would sprinkle white sugar.
Sometimes when ghee would seem expensive, mother would make hot rotis and smear them with fresh mustard oil with a pinch of salt, chillies, and onion. I seriously loved them. I came to know about Bengal's famous egg roll much later—maybe when I was in standard II at the Assembly of God Church School, Dankuni. An egg roll would mean good tidings—father got paid.
Going back to the homemade roti rolls, I have ensured to not only touch base but really indulge in it for more than a week—this time with an extra blob of Nutralite. On my return from Mumbai, I got so used to this, that my Ma has decided not to order butter from Big Basket or Grofers till further notice. Her daughter is 32 and unmarried, and so, it is better to stay away from the fat-inducing butter.
Bhaat Makha with Thankuni, Lonka, & Rosun Bata
Thankuni pata or the Indian Pennywort is native to the wetlands in Asia, in my case, Bengal. It has got great medicinal value. Poor people or villagers with very little access to doctor and medicine would go for thankkuni pata bata for its stomach-healing properties.
That time, we lived in Raghunathpur Bazar after some time in Makhla, Uttarpara, Howrah. Early morning, villagers would sell fresh bundles of thankuni pata and other herbs for peanuts. The rich were utterly averse to it. If someone winced at me mentioning thankkuni pata bata (paste) with lonka (chillies) and rosun (garlic cloves), I would immediately know that they belonged to the higher economic class with access to medicine in an emergency.
In our family, thankkuni pata bata happened on two occasions. Once when we really had loose motion and the other time, when Baba would have no money to buy better vegetables. These two occasions blended well and seemed inconsequential when compared to the taste of the paste. Ahhh. Ma made it like a chutney, and Baba took fresh mustard oil (Note: Bengalis live to eat, and so we don't spare any part from the root to start) and mashed a large plate of hot rice with the paste. My brother and I ran away with the rice mounds onto the field, giggling and messing our clothes.
Rice Mash with Fat Fish Organs
This recipe occurred to me when I demanded Baba to get us a good meal at a time when he was fairly empty. He and Ma brainstormed a lot and figured that thankuni gets boring and the price of vegetables soaring.
Note that these two dare-devils were barely 26-27. 
So this was what they came up with. They went to the fish market and got the organs of a fat fish (ideally Rohu or Katla) for a rupee or two. Back home, Ma added chopped onions and chillies to stir fry the fat or mixed cornflower to make fish-fat cakes. Those are truly mouth-watering delicacies till date. Again, my father would mash a large plate of hot rice with the fry or the cakes and place on our palms little rice-planets to fill our stomachs.
Tomorrow is my birthday, and this is what I have asked Baba to get; fat fish organs. My mouth is already watering at the thought of it. It is a mishmash of the liver, fat, kidney, fish-eggs, and other intestinal knots. Sounds like Chinese cuisine? Probably. I have a reservation for food that makes me happy and glow with joy. 
Chowmein with Potato
Chinese in my childhood was chowmein with diced potatoes and other veggies. I don't know about the other parts of India and their first preferences before the introduction of noodles and spaghetti. This was the richest of everything I had as a child. Famous as street food or homemade hi-life speciality, chowmein on a Sunday morning, Amen!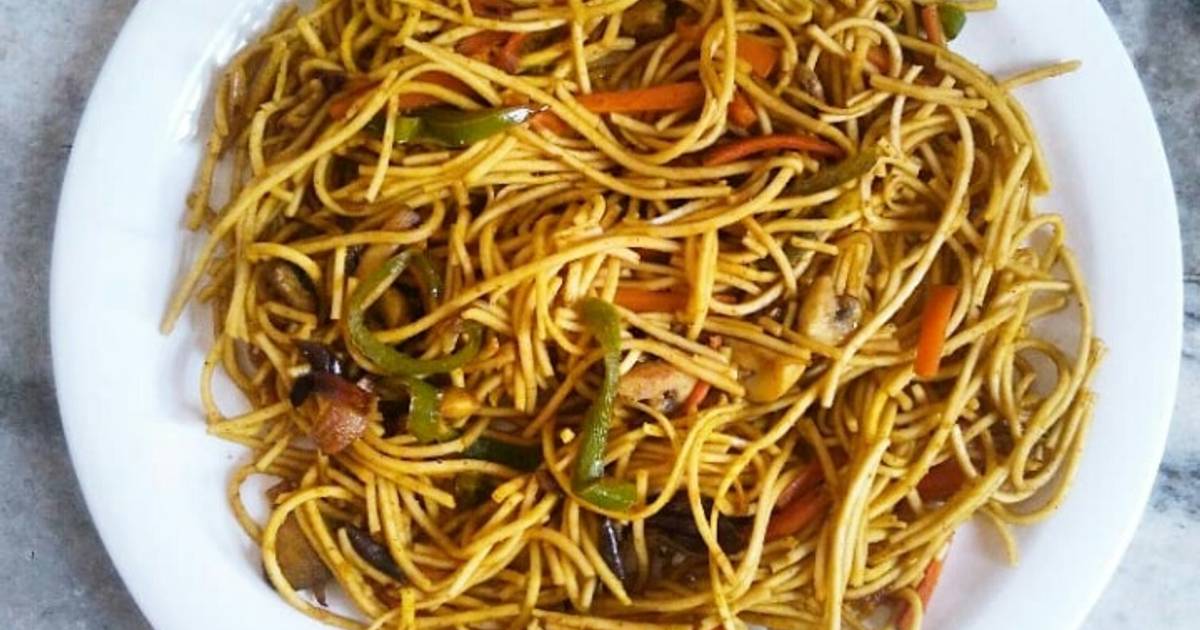 You come back from the church, gather for prayer, and gorge on a wok full of chowmein garnished with Indian scrambled eggs or anda bhurji. I would be so overwhelmed that I had to be conscious of not expressing too much happiness lest I would be taxed with onko (maths).
By the time I was 12, and we moved to the town, we gained a little awareness of how chowmein should be eaten. We discarded the infamous potato and experimented with vegetable julienne and the same anda bhurji. But guess what, this time we taught our landlady how to make "authentic" chowmein. It was hilarious for us that instead of boiling the noodles, she would fry them with the potatoes and vegetables and then pressure cook it for 20 damn minutes! Hahaha.
Okay well, I am not making it up. Seriously. The poet and editor of Quesadilla and Other Adventures, Somrita Urni Ganguli, testifies it in a poem in the anthology.
---
So, now it is your turn to share your memory food from childhood. I am already sad with nostalgia. Make me happy with your funny comments. Would you?